TOP 7 Best Yoga Leggings 2020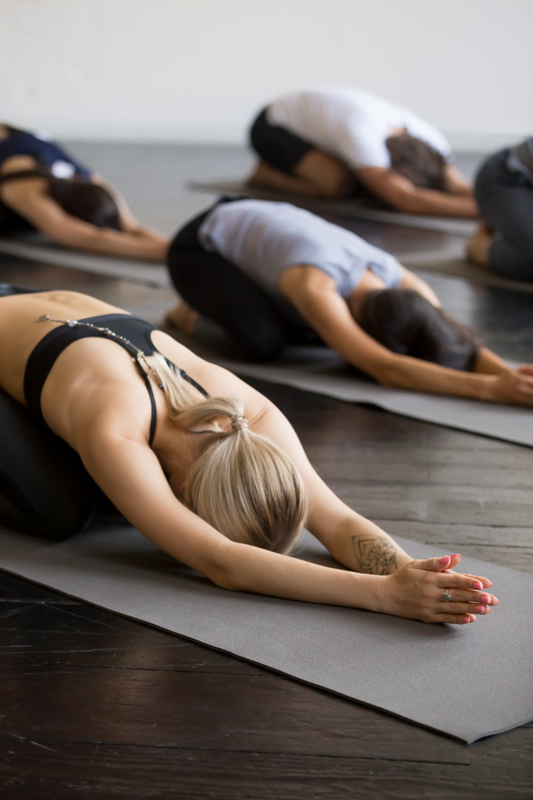 Why Yoga Leggings?
All of us wear them. All of us want them. And all of us want more of them. Or at least I do… 
Yes I am talking about yoga leggings. Not about any random yoga pants, but about BEST Yoga Leggings! I know how frustrating and challenging it can be to find them. 
It doesn't matter you are a veteran or a new at yoga game, yoga leggings are necessity. And even if you are not into yoga at all – leggings are a must-to-have accessories to ensure a great workout experience. Unless you prefer naked yoga games, wich I totally understand! 😀
Until now I had a ton of bad experience with yoga pants, so I know what you'r felling's are at the moment. Leggings either been too long or too tight. Sometimes too short, not breathable or everyone was able to see my moons shining from the back.  Actually it looks like I cared more about quantity than quality. This was my biggest mistake!
But don't worry, I am here to cover you up and to solve your problems. Together we will have nice and pleasant journey, choosing new best yoga leggings!
Now I take care about quality, design, waistband and of course price point. And I want to share my discoveries with you!
Most of the best yoga leggings are at price range between 45$ and 80$. But in my list you will very cheap options and expensive as well. In this way everyone can choose what fits them the best. 
There are best overall yoga leggings, best quality, plus size, cheapest and best style compared to price yoga leggings. Also I reviewed best leggings for cold weather and capris by "Oakla". These TOP 7 best yoga leggings covers everything you need. I am pretty sure you will find something for yourself. 
When I am choosing leggings I always check where they are making them. What kind of materials and fabric they are using. I prefer Nylon Vs. Polyester fabric. Both of them are lightweight and durable fabrics and sharing many of the  properties that are exactly the same. For example wrinkles resistance, stretch and shrink resistance. I prefer Nylon because its softer and also stronger than polyester. But Polyester is not bad as  well, it is drying much faster and have better abrasion resistant.
Best Yoga Leggings Overal
Why they are good? First of all of course check reviews on amazon. At the moment these leggings have more that 15 000 reviews with 4.5 average rating.
Second of all they are made from 86% of nylon and 14% spandex. Leggings made from nylon are better than polyester ones. Nylon leggings are much more durable and abrasion-resistant. Also they have soft feel and allows your skin breath much better.
These Best Yoga Leggings are made from a four-way-stretch fabric, which is really thick and not possible even slightly see-through. Nevertheless your skin can breath easily. It means they are perfect for yoga!
Design: also I was surprised, for such a low price you can choose from wide range of colors, which is great. For me one big benefit is pockets, most of the time I have key, phone or some other small accessories. Having a pocket for them is a huge advantage.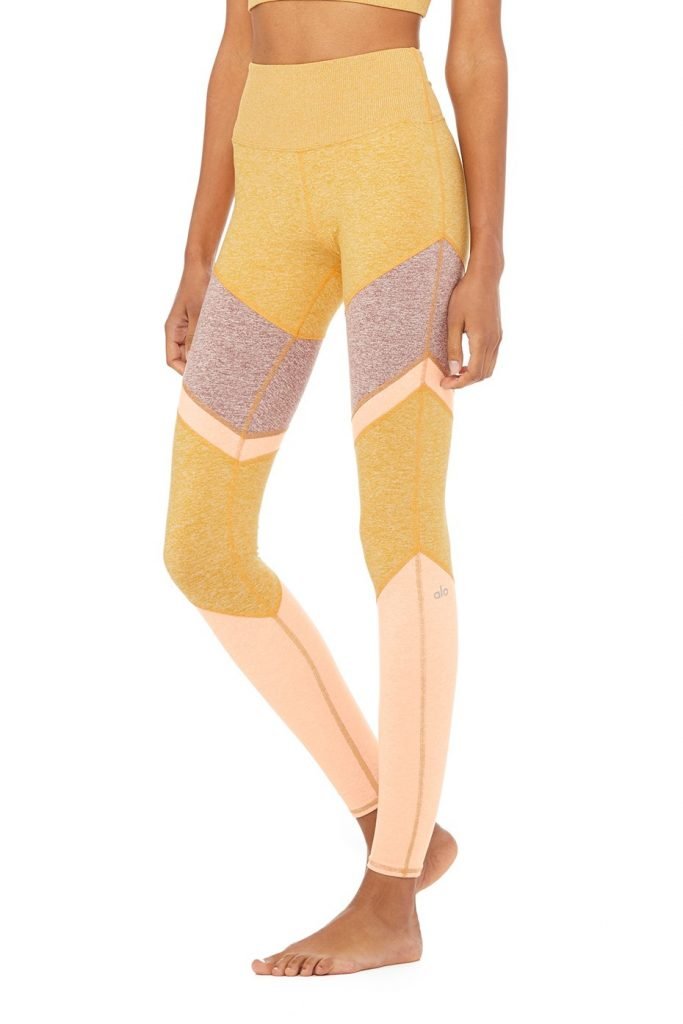 Best Quality Yoga Leggings
Yes, I tried these yoga leggings and they are amazing! I received these leggings as a Christmas gift, I like everything about them especially quality.
Description: Designed specifically for yoga exercises, it stretches with you to keep up with every kind of yoga practice. They have a blocked-color design, sweetheart waistband seam and locked stitching. These best quality yoga leggings has special Moisture-wicking technology and 4-way-stretch fabric to make every move easy and enjoyable.
Fabric: This company is from Italy and they are claiming that they are looking seriously to comfort and quality.  They have their own fabric called "Alosoft fabric".  And these yoga leggings  are made of this fabric. They are saying that this fabric has antimicrobial properties, which is great for yoga or any other activities. 
Some yoga instructors describe this fiber as: "Feels like a second skin and it's baby soft". But as in most cases – you have to pay for quality, these yoga leggings starts at 112$, but I promise – they are long lasting.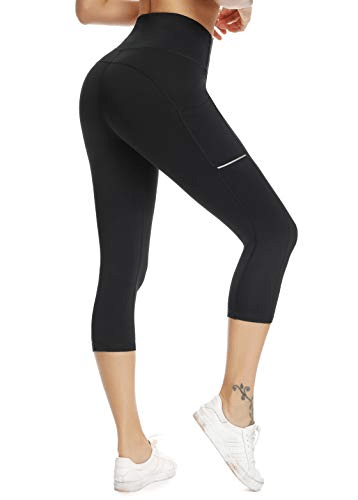 Best Cheap Yoga Pants With Pockets
I fully understand that not everyone is able to give 100 plus bucks for every yoga pants. So that's why I have best cheap yoga pants on my list. For 15$ you get more than you can expect. 
Why these are best cheap yoga pants? It's price compared with quality is amazing. I am using these yoga leggings when I am at home. At home I am doing yoga exercises without yoga rug. So pants get dirty much faster than usual, but when I am paying 15$ its not pity at all.
Description: It's not very good that they are made of 88% of Polyester and 12% Spandex. It means they are not as durable as Nylon leggings. But that's why they are cheap. 
The pockets are really large, I can easily hold my phone in them, and I have "OnePlus 7 Pro" which is pretty large phone.  As most of yoga leggings they have 4-way stretch technology. But not so many leggings have reflective stripes! If you are walking in dark it can safe your life, because you will be visible!
Best Style/Price Yoga Leggings
These yoga pants are designed specially for "Asos". It means you can not get them anywhere else. I like this navy style, and colors looks warm and cozy. 
This looks similar to classic bikini style with breezy cover ups. It's should be perfect for making exercises by the pool or on the beach. And of course they are perfect for your "Instagram" pictures!
Description: Best overall yoga leggings are made from 82% of Polyester and 18% Spandex. This is not perfect, but it should be smooth and stretchy. So all movement will be unrestricted. 
Product has Wide-cut stretch waistband for comfort and support, and are dedicated especially for yoga . Of course you can use them for exercise or everyday activities as well. 
Best Yoga Leggings for Cold Weather
These Cold weather leggings are very versatile. I am wearing them for yoga, jogging and sometimes for weight training. The soft and sleek look also works for me when going out to town!
Description: These Yoga leggings are coming from company "HeatGear Armour". It's their original performance base line. It's tight enough to wick away your sweat and they are drying quickly to keep you cool. 
Yoga pants have special ultra-tight compression technology. Because of this technology leggings are thin and warm. As most of yoga pants these also are made using 4-way stretch construction. High-rise waist for optimal coverage and support. 
They are made from 87% of Polyester and 13% Elastane, for an extra stretchy. Biggest benefit of these yoga leggings are quick drying, so even in cold weather you will be safe.
Best Yoga Capris by "Oakla"
Most of the people are wearing these yoga capris for both – working out and as a stylish comfortable pair of pants. There are a lot of people who prefer Oalkas brand over other. They are saying that Oalka has good quality fabric, comfort and soft feeling. 
They are made from 86% of Nylon and 14% Spandex and it's not bad. Using 4-way stretch fabric to make all your moves easier and comfy. There is hidden waistband inner pocket to stash your key or some small accessories. 
These yoga pants are made from high quality flexible fabric composition, which gives you extra support and wicks away sweat and moisture.
Best Plus Size Yoga Pants
These are coming from a brand named "Fabletics". This brand is created by Kate Hudson and recently they expanded into plus-size market. 
People are really adoring these leggings. Most of the people bought extra or even bought these later as a present for someone. I think that means a lot!
Yoga Leggings are made from their own Motion365 most versatile fabric. It is designed to give you all the sculpting advantages of high compression with maximum breathability. This state of the art is made from 75% of Nylon and 25% of Elastane.
At the moment they have really amazing discount. You can grab 2 leggings only for 24$! Dont wait and take this amazing deal!